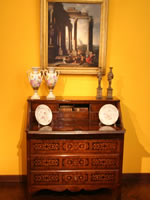 GalleriaVerde - in its bricks-and-mortar incarnation - was launched in 1992 in Rome's Via di Monserrato, a traditional center for antique dealing located just a stone's throw from Piazza Farnese, Campo de' Fiori and Piazza Navona.

Specializing in paintings, furniture, glass and other artistically valuable items dating from the 15th to the 20th centuries, GalleriaVerde's business activities encompass the purchasing, analysis, valuations (Julio Paniagua Marini, the owner of the company, also serves as an expert valuer at the Civil Court of Rome) and the selling of antiques. Moreover, the gallery carries out restoration of works on canvas, paper and tablet, as well as furniture and objects made from wood, porcelain and metal.

Over the years, GalleriaVerde became the organizational headquarters for events involving the entire Via di Monserrato, such as concerts, guided tours and conferences, thus promoting what is surely one of the areas of Rome most beloved visitors and locals alike.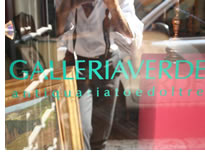 In 2005, GalleriaVerde transformed itself from a physical gallery into a virtual showcase, with the launch of galleriaverde.com. Our professionalism and capacity to deliver high-quality services have not been diminished one iota by this process - the gallery continues to buy and sell paintings, furniture and other high-quality items, and to offer restoration, valuation, authenticity certification and consultancy services of the highest caliber.

Not all of the works shown on the site are owned by the gallery, since some are loaned directly from private collections. On request, and without any obligation to buy, the piece or pieces you are interested in can be viewed in person in an exhibition space near Campo de' Fiori.

Short professional biography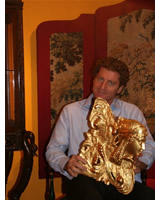 Julio Paniagua Marini, founder of GalleriaVerde and now of galleriaverde.com, was a successful student at the Antiques Department of the Institute for Art and Restoration in Palazzo Spinelli, Florence (www.spinelli.it). At the age of 22, Julio started to collaborate with specialist galleries in Lugano (Switzerland) and Rome, and to take part in the first of numerous national and international antiques fairs. In 1992, he set up his own gallery space, GalleriaVerde. In those same years, he was accepted into the Artworks Section of the Chamber of Commerce, and was then appointed as an antiques valuer and technical consultant to the Civil Court of Rome. In the mid '90s, along with other store owners on the street where the gallery was located, he set up the Via di Monserrato Association, of which he was named president. The association endeavors to protect the street's heritage by consolidating relationships with the local authorities, and to promote events aimed at making the most of all that the area has to offer.